Tweet and Win Elegant Themes Membership Giveaway by Best WordPress Themes @bestWP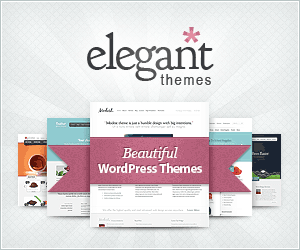 We are giving away 3 Membership license from Elegant Themes worth $39. Elegant Themes Club Membership provides unlimited access to 70+ themes with 2-3 new themes each month (the price per theme is less than $0.50!). They create high quality, professional User-Interface, fashion & beautiful premium WordPress themes for various niches including: Business / CMS, ecommerce, magazine / news, portal, portfolio, personal, micro and professional blogging.
How to win?
1. Follow @BestWP Twitter
2. Tweet/Retweet the following message:
I love WordPress Themes from Elegant Themes and I love seek Best & Premium & Free WordPress Themes from bestwp.net @BestWP
I love WordPress Themes from Elegant Themes and I love best WordPress Themes Collection website @BestWP
4. You may enter this giveaway multiple times by tweeting the message once a day until giveaway closes. Each tweet is counted as one entry, which will be put into the list of entries.
5. You need to comment this post with a name that will fill in the list.
6. Tweeting game starts as soon as this post is published and ends on 16th November 2012.
7. Winners will be chosen using Random.org's List Randomizer after the game ends.